Pthe century-old apartment buildings of aris, before Haussmann took over the planning of the city, are discreet places, hidden behind huge doors opening onto the street. Usually a small door is recessed inside. Cross over and, in the case of Victoire de Taillac, you enter a courtyard with a large staircase leading off to the right and the apartments themselves. But De Taillac's family home is on the left. A modest two-story apartment from the 1930s ("like two shoe boxes stacked on top of each other"), it is perched atop this 18th century building. mansion, and accessible through the entrance of the servants.
A narrow spiral staircase makes the second floor dizzy; the apartment is on the seventh. How you deal with those little worn-out heel steps or lugging around a suitcase is guessable. There's an elevator, says De Taillac, but it's been broken for months. So she buys food one day at a time. His wine is delivered: "They send the young one," she laughs.
But the climb is worth it. The view from the living room on the top floor and the master bedroom below is breathtaking: all the sky and the roofs, with the Eiffel Tower in the middle.
She lives here with her husband, Ramdane Touhami, and their three children. De Taillac – founder with Touhami of the luxury beauty brand Buly 1803 – comes from a French aristocratic family, descendant of a royal guard who would be one of the inspirations of the Three Musketeers. Touhami is a former skateboarder, son of a Franco-Moroccan apple picker from southwestern France.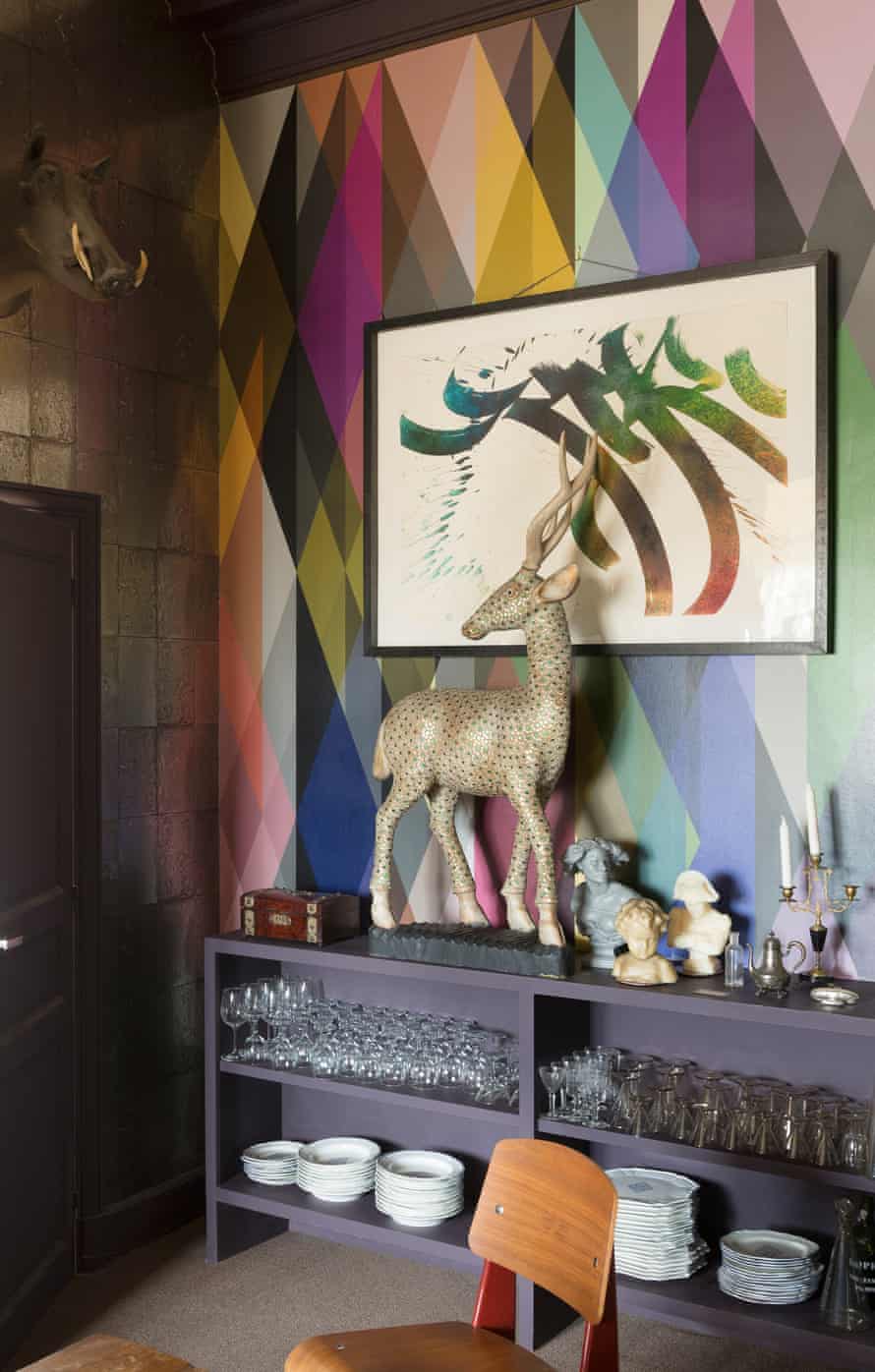 You enter directly into the apartment in a tiny attic kitchen, edged with turquoise Cole & Fils Wallpaper, with inclined beams painted the same color; a narrow corridor leads to it, winding up to the bedrooms. Upstairs, the living room leads to a dining room, lined with gold tile wallpaper, shelves lined with curiosities.
For a couple living in the luxury brand world, the apartment is a refreshing and messy jumble, with all the finery of ordinary family life. Paint from the tester scratches the hallway; the growth charts are scrawled on the wall. The two youngest children – Adam, 12, and Noor, 10 – share a room; the eldest, 14-year-old Scherazade, had carte blanche to decorate hers. The living space looks like a vintage department store: Touhami loves chairs, and no two are alike. A pale pink leather Barcelona armchair and ottoman by Mies van der Rohe are, on closer inspection, yellowed and faded. "It's 15 years old now and was vintage when we bought it," says De Taillac.
The family did not live here for long. They never do: they lived in Japan for a year in 2016, and before that, they spent two years in a brownstone in Brooklyn, New York. The main reason for their traveling life is Buly, the historic beauty brand they "relaunched" in 2014; they currently have four stores in Asia. But they are also nomadic by nature. Before having children, they lived in Tangier and India. "Paris is home," says De Taillac, "but we like to discover new places. Ramdane is restless – he likes movement.
The couple first breathed new life into an old business with Cire Trudon, a 16th century wax maker, which they transformed into an international brand of candles. Seeking to "create" his own brand, Touhami searched the historical archives. He stumbled upon Jean-Vincent Bully, a 19th century master perfumer from Paris. Three years later, dropping an "l" from the name, Buly 1803 was born.
Where will the family go next? "It's more and more difficult to move around," says De Taillac. "The kids won't want to leave their friends and their schools. So for now, they're staying put – painting the hallway blue and fixing the elevator. "Home," she said, "is where my family is."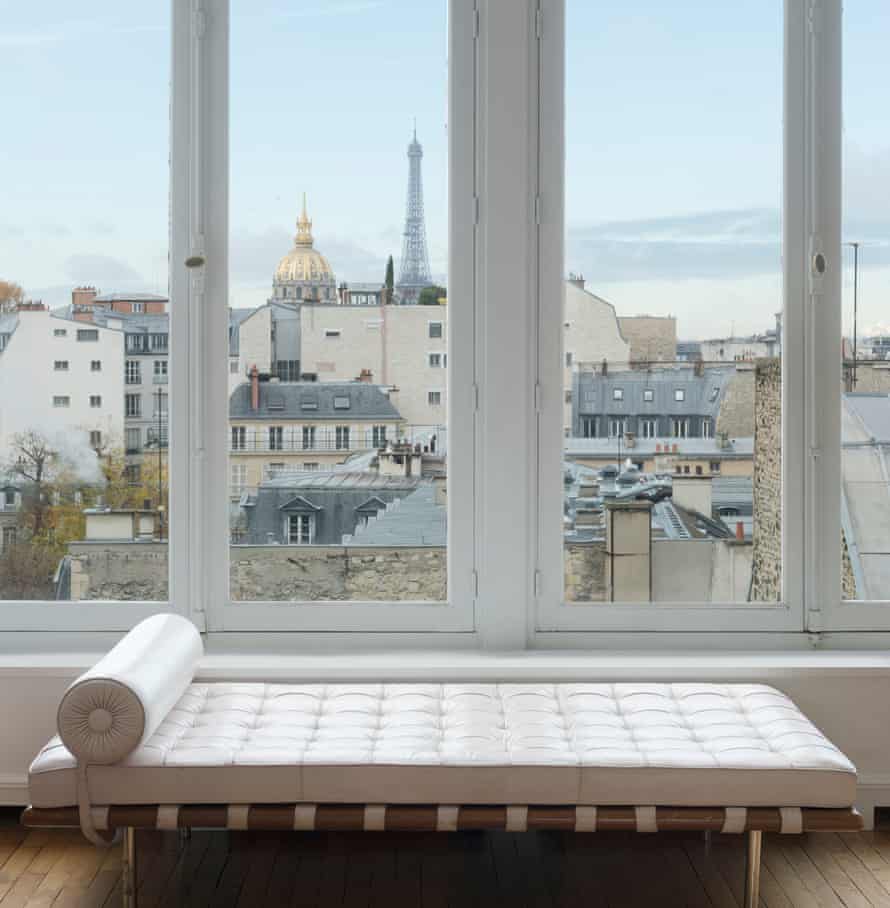 House rules

Pet interiors hate Victory: the invasion of technical kitchen gadgets.
Worst decorating mistake Victory: when an interim solution becomes final.
The most valuable asset? Ramdane: my pair of Jeanneret Kangourou chairs.
What would we never see in your house? Ramdane: anything brass.
Bedside reading Victory: A Tower of Pisa – magazines, newspapers, novels, gardening and cooking books.
The last thing you bought for your house? Ramdane: an art deco silver tea service.
Your worst habit at home Victory: buying new things is full.
The most guilty pleasure Ramdane: a chocolate pastry and mint tea in front of the football.
What would we find in your fridge? Ramdane: Greek white beans, Greek lentils, Greek hummus.
Last guest of the house? Our children's friends.